ROCKETRY?
---
What Is This Really All About?
There are times in life when we find something that we really enjoy. When we do, we pursue this newly found joy with each spare moment. Then we find something else. Newer, shinier, or just cooler to our friends. Old things go by the wayside. Sometimes, days, months, or even years later, we rediscover the thing that gave us so much earlier enjoyment, and we pick it up again. Maybe it's even decades later. This is the tale of my falling backwards in time, and rediscovering model rocketry.
Why Model Rocketry?
This is really a story about two kids. One of them, I used to be. The other lives with me. When it was time to plan for a birthday party this past summer, we discussed the possibilities of the usual party at the bowling alley/arcade/movie theater with some of her friends. After a few moments, a pensive nine-year-old girl looked up at me and said, "That does sound like a lot of fun, but... instead? I really think that I'd rather go to NASA."
After I got over my disappointment of the no skating party bummer, we made plans to visit NASA's Johnson Space Center, in Houston, Texas. This place ROCKS! Have you ever seen a Saturn V Rocket? (This made the trip for me!) After a full day of aerospace fun and games at Space Center Houston, including a nice guided tour of JSC itself (Mission Control!), we headed home, talking space and rockets the whole way. This got me to thinking of a box I've carried around for years, that has basically only resided in the top of numerous closets.
---
"A WHAT Box?"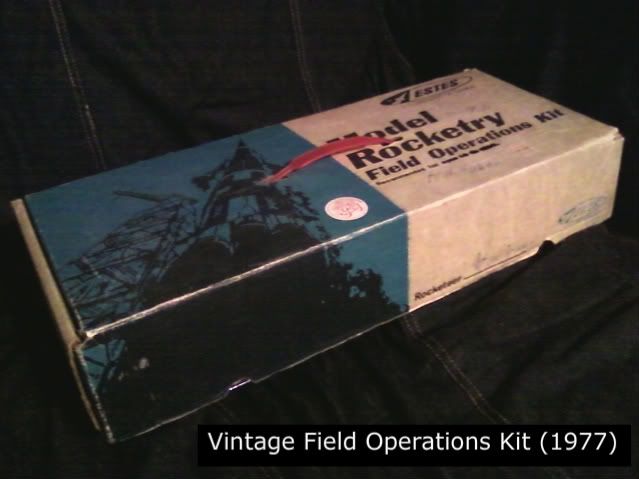 I explained to her that it was my Model Rocketry Field operations Kit, from over three decades ago. She was rather nonplussed, until I opened it up and started to explain the bits and pieces inside. One of the first items out of it was the Centuri Screaming Eagle (shown above). When I explained to her that this was my second rocket, and that I had built it in 1977, it got her attention. After digging around in the box, I realized that there were a couple of flyable or almost-flyable rockets in it, and parts for a few more.(More on those in future write-ups.)
I decided then that I should get her a model rocketry starter kit (about $30.00). This is a set that includes a launch pad, a launch controller, a Level 1 (basic and easy to build) rocket, and a couple of solid propellant rocket motors. Everything is included for two flights, except for some glue and a few batteries. When I made the purchase, I also got a small additional rocket made by Estes, called the 220 Swift, and a few packs of mini-motors for it. This would give us a bit of variety, and let her see a little more of what a hobby such as this could offer. I don't think either of us could have imagined the possibilities that model rocketry has brought us.
---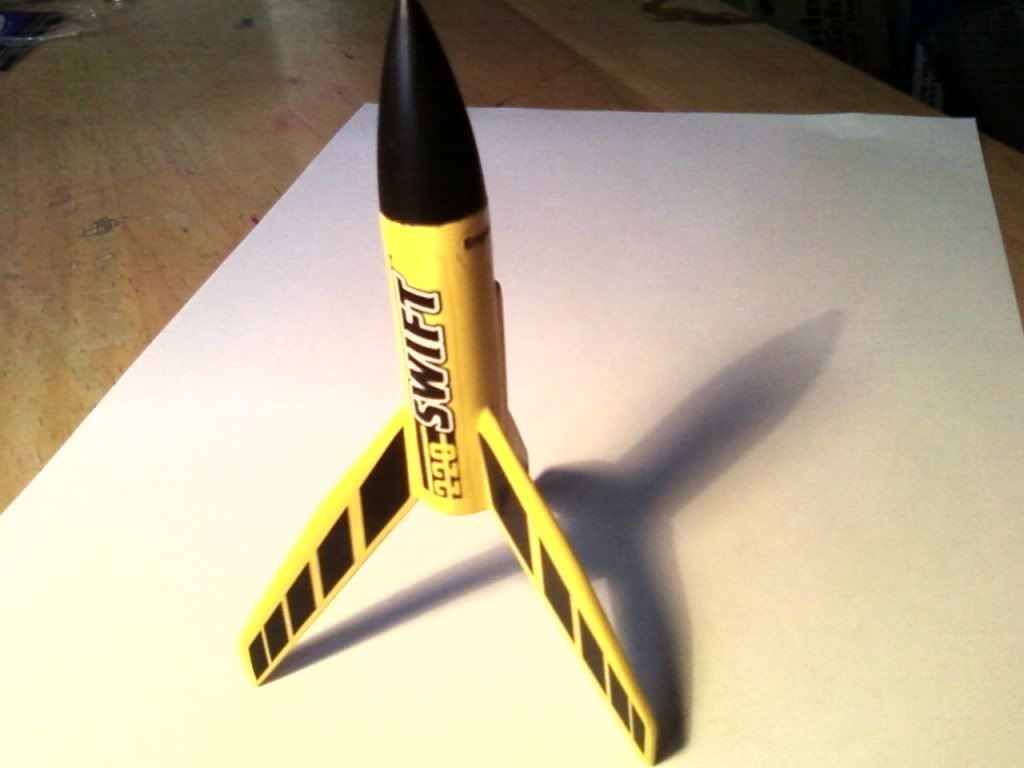 Learning Without Knowing It
Building models such as the Swift shown at the right has opened up many avenues for us. As a family, it gives us time together while constructing and flying. For kids, the building of models can teach direction following, patience, self-worth, and can hone fine motor skills. This model was finished out per the kit's illustrations, but imagination can come into play when choosing what type of finish to employ.
Activities in rocketry have rolled over into an education without it being mandated by a course syllabus. Mathematics are used in measuring the materials for construction, weighing the components, estimating flight trajectories, and tracking altitudes. Physics come into play as we discuss drag and thrust, and the centers of gravity and pressure, and how they are critical in the aeronautical stability of a model rocket's flight profile. Mass, acceleration, g-force, lift, and drag are likely not standard topics for most nine year old kids, but these activities have made these terms commonly used in our world.
If you take away all of the "package-deal" benefits listed above, which includes skills, discipline, and self-worth that she will carry with her throughout life, rocketry has current value in our lives. Simply put, building and launching model rockets is fun!
---
Why A Page About Model Rocketry?
As this page (and my HTML skill) grows, there will be more in-depth write-ups. To be covered are step-by-step builds, including construction techniques. Finishing will be given ample time as the fine arts of material sealing, masking, and the application of finishes slowly make themselves known to me. There will be many links, as well as information taken from other sources. All effort will be made to credit those sources, as I would expect anyone to do the same for anything found here. Feel free to use or pass along any info you find worthy, as that's what this is all about.
Here's hoping that you have balmy days, straight flights and short recovery walks...
In the words of the great Cosmonaut Yuri Gagarin, "Poyekali!"